FREE SHIPPING ON ALL DOMESTIC ORDERS $75+
Re-inventing the playing field
Why aren't enough sports brands making women's sports shoes already?

As professional and amateur female athletes, we spend a lot of time and energy fighting against being viewed through a gendered lens. We see ourselves as sports people who are equal to our male counterparts and we don't want to be treated any differently.
Just as men's kit has been designed with men's health, anatomy, and performance in mind, we need our kit to be designed specifically to support us in our particular sport.
For a long time, women's sportswear went no further than men's designs in smaller sizes and feminine colours. There was even a name for this strategy: "shrink it and pink it". It's only very recently that sports brands have started to put serious thought and budget behind creating women's sports kit designed to enhance the experience and performance of the women buying and wearing them.
While it's been a long time coming, it's no surprise that the women's sportswear market is currently exploding. The 2019 Women's World Cup in France was watched by 1.1bn viewers , the Australian women's cricket team was voted the most liked national team , and FIFA is standing by its commitment  to investing $1 billion into women's football despite coronavirus. Interest, participation, and investment into women's sport is bigger than ever before.
The increase in the number of players, viewers, and brand sponsorships in women's sport has led to a louder conversation around why women have had to put up with wearing men's kit for so long.
Despite the evolving landscape, sports shoes designed for women are still wildly outnumbered by those designed for men. For women playing sports such as AFL, rugby, and soccer especially, the choice of boots is usually limited to small men's designs.
For as long as most of us can remember, we have worn small sized men's boots or large sizes of kid's boots to play field sports. Even in 2020, women's sport's shoes for footy, rugby, soccer are difficult to find.
Do we need to wear women's sports shoes - can't we just wear men's or children's?
The average women's shoe size is a size 6 while the average men's size is size 10.
This means that the majority of men's sport specific shoes are available in a size 8 or above, and most kid's shoes are only made up to a size 5. While there are some men's and kids shoes available in the in between sizes, the selection is very limited.
As a result, many female athletes end up buying a pair of boots that are either a little bit too big or a little bit too small, putting them at higher risk of injury as they play and even impacting potential for progression in their sport.
Beyond functionality, women's sports shoes are usually created using traditional feminine colourways, so not only do we have a smaller choice of colours for our boots, we are usually limited to pinks and purples. 
"If the boot doesn't fit then female footballers should have an alternative"
- Anna Kessel,
Co-founder of Women In Football
So how exactly do women's sports shoe needs differ to those of men?

Women generally have smaller feet than men
Generally women have different shaped feet to men whose feet are often longer and broader but the instep and toe region are, on average, larger for women. This debunks the assumption that women's feet are smaller versions of men's feet.
Women usually have different pressure loads to men due to having wider hips - this affects stud configuration
Women usually have narrower heels to men
Average height to weight ratio is different to men's
Women have different traction needs
Wearing men's sports shoes will at best impact our performance and at worst cause us significant physical damage. It's time for brands to take more notice of what women are looking for in a football, soccer, or rugby boot.
Game changers: the landscape is changing for women's sports shoes in Australia
Ida Sports was founded to create women's sports shoes designed for women's feet. Specifically, Ida boots are designed for footballers, soccer players, and rugby players looking for the best boot for their health and performance.
The Ida team chose to design our first boots for these sports for several key reasons.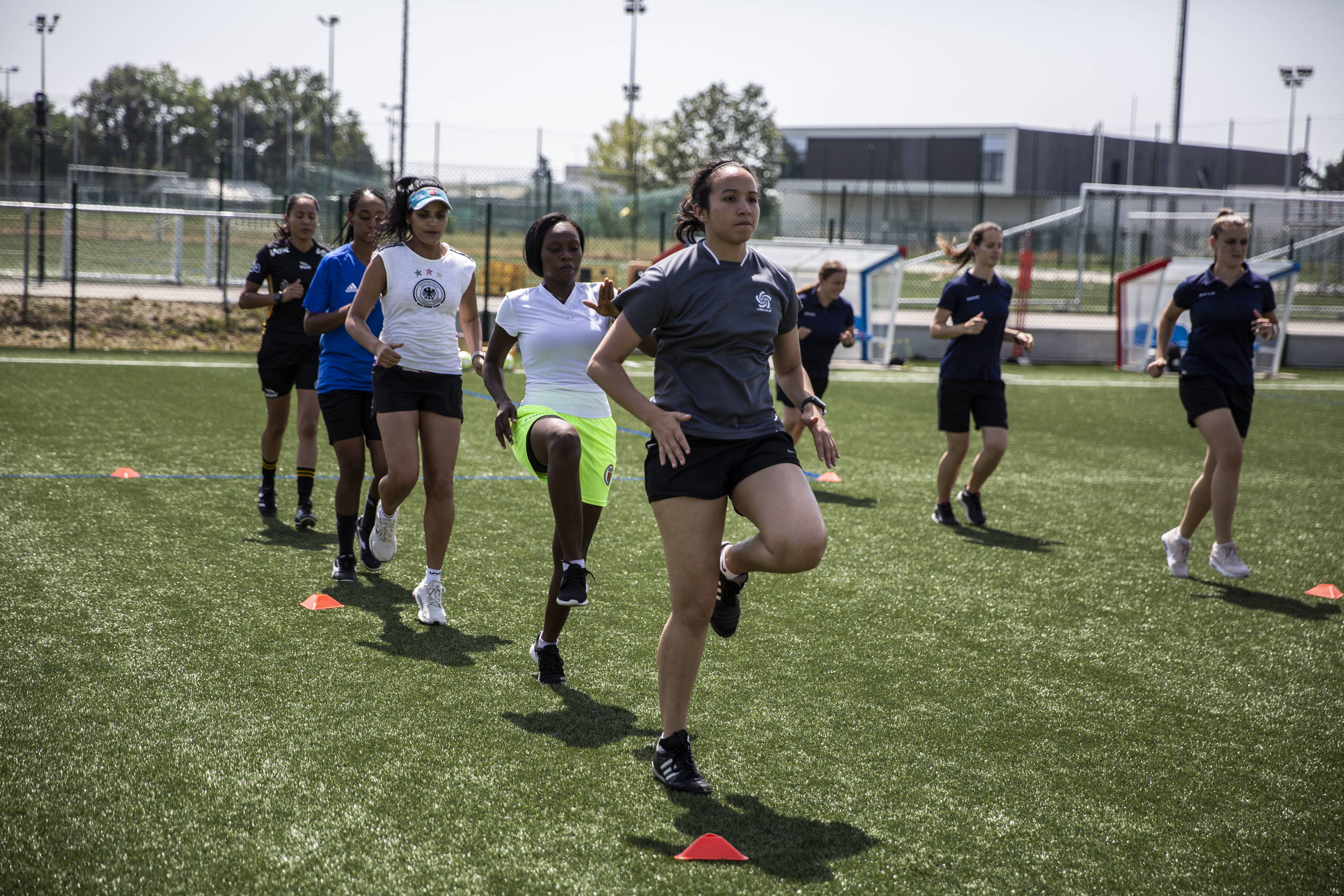 One of our founders, Laura, is an amateur soccer player and experienced first-hand the need for women to have better soccer boot options. Wearing boots that were always slightly too small or slightly too big led to her feet not being properly supported in the toe box or heel and pressure wasn't properly spread out across the studs. Ida boots are designed to support the cutting motions you make throughout a soccer match as well as being really comfortable, and supporting your body properly as it moves around the pitch.
And surprise surprise, the same problem existed in women's rugby! And Rugby 7s in particular. The same speed and cutting motions seen in AFL are also used in Rugby 7s and players require solid support for speed and quick footwork. Women have been wearing position specific boots made for men for a long time in Rugby 7s which usually don't provide the ideal support for women's feet.
Check out our article Do I need women's rugby boots or position specific rugby boots?  for more info on this.
"Medically, women shouldn't be wearing men's or kids' shoes, they should have their own set of shoes"
- Laura Youngson,
Co-founder of Ida Sports
When we spoke to athletes about their ideal boot aesthetic, they told us just "please not pink". That's why we designed our first boot in two colourways; black and red and black and blue and we are so excited to share them with you.
At Ida we think that the big brands haven't prioritised women's sports shoes outside of running for too long. The boot is designed with your feet and performance in mind, to help you have your best game every game.
---